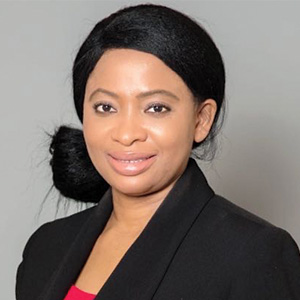 Modupe Idowu, MD
Professor of Medicine, Division of Hematology, Director, Benign Hematology Section, Associate Program Director of Hematology/Oncology Fellowship, UTHealth McGovern Medical School
Modupe Idowu, MD
Professor of Medicine
Division of Hematology
Director, Benign Hematology Section
Associate Program Director of Hematology/Oncology Fellowship
UTHealth McGovern Medical School
Houston, Texas
Dr Idowu earned her medical degree from Texas Tech University School of Medicine and a residency in internal medicine at Texas Tech University Health Sciences Center; both institutions are in Lubbock, Texas. She held fellowship in hematology at the University of Florida. Dr Idowu presently serves as Professor of Medicine, Division of Hematology, Director of Benign Hematology Section and Associate Program Director of Hematology/Oncology Fellowship at the University of Texas Health Science Center, McGovern Medical School in Houston. She is also the Medical Director of UT Physicians Comprehensive Sickle Cell Center, Houston, TX. She is board certified in hematology.
Since joining McGovern Medical School, Dr. Idowu has received accolades from her students and her peers. She has been awarded Dean's Teaching Excellence Award on a yearly basis since 2011.
Dr Idowu is an active member of the American Society of Hematology (ASH), American Federation for Medical Research, and the National Medical Association. Her clinical interests include sickle cell anemia, other anemias, thrombocytopenia, leukopenia, and bone marrow disorders. In addition to serving as principal investigator for more than 12 clinical trials, Dr Idowu is a reviewer for the journals- Scientific Reports, Blood Advances, Journal of Investigative Medicine and other journals. She has more than 20 articles published in peer-reviewed journals.
Sessions
Understanding Your Patient Population and Patterns of Utilization (10:30 AM - 11:15 AM)