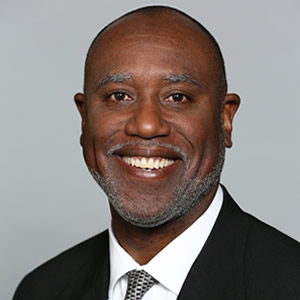 Derek Robertson, MBA, JD, CHC
President, The Maryland Sickle Cell Disease Association
Derek Robertson, MBA, JD, CHC
President, The Maryland Sickle Cell Disease Association
Columbia, MD
Emaiil: mscdainfo@verizon.net
Derek Robertson is, along with his wife Shantá, co-founder of the Maryland Sickle Cell Disease Association (MSCDA). Derek and Shantá have three sons, two of whom have sickle cell disease (SCD). As President of MSCDA, Derek oversees the overall direction of the organization. Derek has served on various SCD related committees. He was appointed by the US Secretary of Health and Human Services to serve on the Secretary's Advisory Committee on Heritable Disorders from 2004–2007 and the federal Maternal and Child Health Bureau's Newborn Screening Expert Panel from 2001–2004. He currently serves as a member of the National Institute of Health's National Heart, Lung, and Blood Institute's Sickle Cell Disease Advisory Committee and The National Academies of Sciences, Engineering and Medicine Forum on Regenerative Medicine.
Professionally, Derek is a healthcare attorney/consultant who brings with him a vast experience in government pricing programs with a particular specialty in the Public Health Service Section 340B Drug Pricing Discount Program (the "340B Program"). Derek also has extensive experience in Medicare and Medicaid reimbursement as well as the federal Medicaid Drug Rebate Program. As a Managing Director in the Consulting firm, Apogenics, Inc., Derek advises his clients on how to stay in compliance with various federal laws and regulations including anti-kickback laws and various guidance related to federal drug pricing discount programs. Derek has worked extensively with hospitals and universities on federal grants management and, program income calculation and reporting. He presents nationally at conferences on government pricing programs, specialty pharmacy trends and conflicts of interest in healthcare.
Prior to joining the Apogenics team, Derek helped establish and served as a contracted Executive Director and General Counsel to the Hemophilia Alliance, Inc., an organization representing Hemophilia Treatment Centers (HTCs) that participate in the 340B Program. He also served as General Counsel for the Hemophilia Alliance Group Purchasing Organization. While representing the Alliance, Derek spent two years as an associate attorney at the law firm of Powers, Pyles, Sutter and Verville, PC in Washington DC.
Derek holds an MBA from City University of New York-Baruch College and his Doctor of Jurisprudence from the University of Houston Law Center. He is licensed to practice law in both Texas (currently inactive) and Washington, DC. He is certified in Health Care Compliance by the Health Care Compliance Association and is a practicing volunteer mediator in Howard County, Maryland.
Derek Robertson, MBA, JD, CHC has nothing to be disclosed.
Sessions
Building on the Relationship with Community Based Organizations (3:15 PM - 4:00 PM)