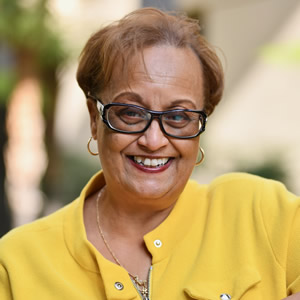 Mary Brown
President & CEO Sickle Cell Disease Foundation of California
Mary Brown
President & CEO
Sickle Cell Disease Foundation of California
3602 Inland Empire Boulevard, Suite B220
Ontario, CA 91764
Email: maryb@scdfc.org

Sickle Cell Disease is my passion. I am a nationally recognized Sickle Cell community-based organization (CBO) leader with over 40 years' experience in the field. The strength, courage, and resilience of the hundreds of affected individuals and families compels me to action. As President & CEO of the Sickle Cell Disease Foundation for the last twenty years, I am committed, as is my team, to transforming CBO capacity and partnerships. Not just locally but regionally and nationally to ease the burden of this disease by improving care. I have powerful ties with clinicians, state/federal agencies, and local stakeholders, giving me the skills and experience needed to ensure this innovative project's success.
Since 2012 I have served on the Board of Directors of the Center for Inheritable Blood Disorders (CIBD), a blood disorders outpatient specialty clinic with leadership in regional and national capacity building. CIBD's Pacific Sickle Cell Regional Collaborative, one of HRSA's first regional Sickle Cell Treatment Demonstration Program, advances treatment and outcomes. Our successful collaboration with the Los Angeles County Department of Health opened an advanced practice medical home for adults with sickle cell disease in 2016 at the MLK Jr. Outpatient Center, increasing access to care. This is the only sickle cell clinic in Los Angeles County for publicly insured adults. We broadened stakeholder commitment to sickle cell services through productive alliances with Regional HHS leaders, minority health professions, and advocacy organizations: African-American Physicians, Hispanic Nurses, and African Immigrants increasing knowledge about evidence-based therapies. New minority workforce development initiatives are beginning. This new HRSA proposal will leverage our strategies and expand best practices nationally.

The SCDFC and CIBD staff, collaborators, and partners are well-positioned to successfully serve as HRSA's Newborn Screening Program Technical Assistance Center. The SCDFC has 27 years of experience as California's only certified Newborn Screening counseling and education center for Sickle Cell Trait. Our consortium will provide guidance, develop best practices, and ease the sickle cell burden across the United States.
I served as President of the Executive Directors Leadership Council, a member of the Sickle Cell Disease Association of America, and a patient advocacy agency for over ten years. Through these experiences, I have gained extensive information about local service needs and Sickle Cell CBO Executive Directors' trust nationwide.
Dr. Brown has nothing to be disclosed.
Mary Brown has nothing to be disclosed.